Our dreams are a strange world without a doubt, and they may carry in the folds of their strangeness many hidden meanings and vague messages that we may ignore ourselves, I mean… Why would Jack Crauser, with his transformed arm, pursue me in broad daylight and in the neighborhood in which I live ?! How could this dream have any meaning? Protect … Excuse me, I did not come here to gossip about my strange dreams, but to talk about the hero of our story for today, the boy "Lyud", who became aware of the fact that he dreams, but unfortunately for him, his dreams make it impossible for terrible nightmares and he is unable to escape or stop them! Thus, and the door to escape was closed in his face, he had no choice but to face all his fears in it, so will he emerge safely from this dangerous confrontation? Or will his nightmares haunt him forever?
To be honest, I do not have a fixed background about the story at all, as the game begins in a completely vague way without any introductions, meaning that it follows the narrative style through its world only, and the reality is that it is not the first to do so, as we have previously run into similar games like Inside, for example, but not limited to. But the question is: Has Darq applied this proposition correctly? In short … Yes! The game world is really wonderful and it gives you a strong feeling that the game wants to tell you something through it, from its lonely atmosphere and strange ideas to its frightening creatures, even the tools that you will use during your trip are no less strange, for example who uses a wristwatch to make a bridge to pass it to the other end ? Or an amputated leg to make the elevator work again? I'll let you imagine the rest of things to your imagination, but I think the idea has reached you as a whole. This is how the world offers us many different hints to make us imagine the story in our own way: Is all this really a long nightmare? Was "Lloyd" dreaming that he goes to bed every night to enter that terrible world, thinking that he is dreaming? I mean … I had previously entered into a somewhat similar dream when I had a fever when I was young, although I do not remember its details much, but it makes me certain that this theory is not impossible! Or is the boy exposed to a terrible accident that left him on the brink of death, and what he is going through is nothing but an near-death experience, or as it is known as (NDE) while he remembers different periods of his life in a grotesque way? But hey … why isn't the writer just a lazy person who didn't want to bother writing an actual story so he let the players have to just imagine it however they like ?! I mean … I don't want to make an accusation but it does not seem impossible to happen, regardless of what the story you have thought of may be, it cannot be denied that the game world is truly exciting and an effort has been put in place that is not at all easy in its manufacture! But let us not forget that we are talking about a "game" in the end and the world alone will not be a guarantor to go through the experience. Yes gentlemen, it is time to talk about the game system!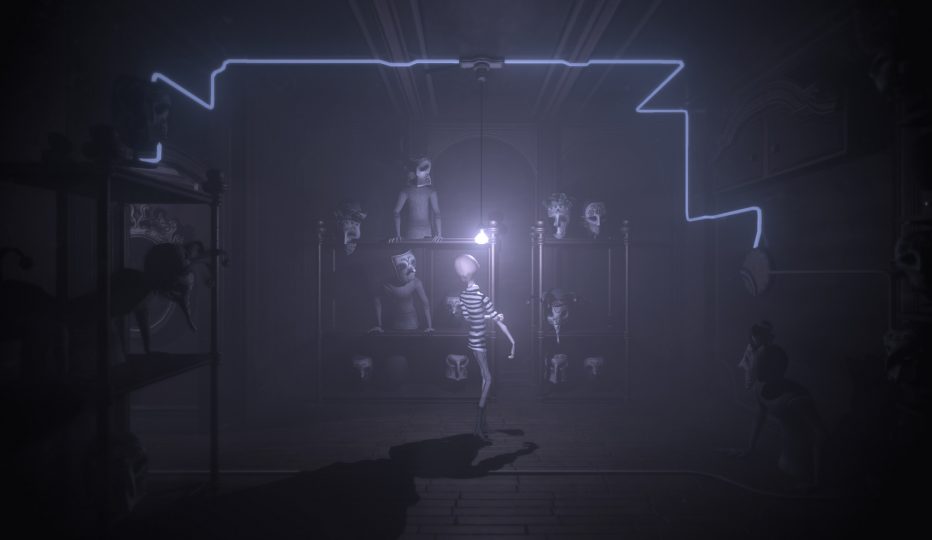 Darq is a puzzle game in the first place and horror in the second place, and you will have to solve many riddles if you want to progress in it and sometimes escape and hide from the monsters inside it. Let's start our discussion about the puzzles here, and I must say that the game exceeded my expectations in this aspect ! The puzzles here are wonderful and perfectly balanced, as they are not easy to the point where you feel bored and are not difficult to the extent that you cry, not to mention that they are very diverse in their ideas and content, some of which will depend on the strength of your memory and your quick wit and the other will require a lot of focus and sometimes all Mention! Navigating the game world alone is very smart, and it has been used very well as "Lyud" has the ability to walk on walls and ceilings and sometimes change the parameters of the surrounding environment! (They are his dreams and his rules, so do not ask please) and these abilities will play a good role in escaping and hiding from the monsters inside the game, which is what we will discuss next, and the truth is that there is not much that can be talked about, this part is a bit marginal and does not form a part A big part of the game, but it exists anyway, and we have to talk about it. There are only two types of hiding here: the first is to hide and wait for the monster's sight to move away from you, and the second is to approach them calmly and not make any noise or it will kill you. And while I do not have any problem with the second method, the first seemed boring to me as the monsters are slow and they will take their time to walk before moving away to be able to cross without noticing you and fortunately this part did not happen much but it bothered me enough to I mention it as negativity, which is something worth appreciating, I think. The parts of escape here are the ones that occupy the least space of all, and I will not talk about them given that there is hardly anything to talk about except that it was entertaining and I enjoyed it a lot.
Talking about the game's melodies will not take long, as it hardly owns any of them, except for the melody that you will hear as soon as you start it or the ending melody, there are no actual pieces and the reality is that this matter did not bother me at all, but rather I see it as a good choice by the developers, as this matter gave the world a character More bleak as it contributed to making your collision with monsters inside the game world a more terrifying experience as after you encounter them or attack them you will activate a set of high-intensity sound effects that will cause you a lot of turmoil and tension after that deadly stillness, and some may associate this type of Horror with the famous name Jump Scares, which is something I don't mind personally. Although I don't consider it my favorite type of horror, I think it was presented perfectly well here so I have no objections at all.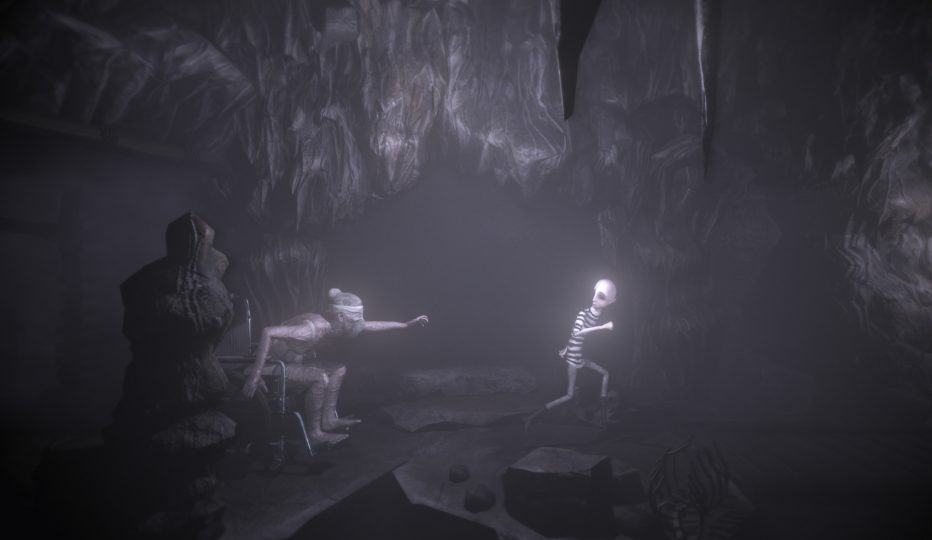 The end, the Complete Edition version contains two additional stages, The Tower and The Crypt, each with their own ideas and unique atmospheres that they are distinguished by, despite this, this game is very short, as you can finish it in just three hours! It may take longer if you want to collect the hidden manuscripts within the stages, but this matter will not raise the age value of the game in a significant way, and the fact is that I waited before talking about this matter as a negative, I mean that there are those who see the short life in a positive perspective, which is not surprising for those who want to obtain On a quick experience that is not time consuming, but in the end, the official price of this game is $ 20, and you may want to wait for a discount so that you can get it at a better price, but the most important question remains: Is this game worth trying? Well, if you are looking for an experience similar to games like Limbo, Inside and Little Nightmares in essence, but it carries its own and unique ideas that guarantee it to stand firmly between these unique experiences, it is undoubtedly worth it! Darq is a unique and wonderful experience definitely, but it is like eating a pinch of ice cream on a hot summer day so you quickly finish it wanting to get more of it but unfortunately you cannot, but this may be part of its magic as well.
The game has been reviewed with a switch version that was provided by the game publisher.